Production and sale of aftermarket accessories
for cars, motorcycles and more
Anyone who loves engines forms a strong, almost visceral bond with them that accompanies them throughout their lives. It's a bond you can't do without, an unbreakable passion that drives you to live with them and of them. This is where our passion comes from, from the smell of the burnt mixture, from the noise of accelerating thermal engines, from the bright colors of the liveries and above all from the freedom that a two or four-wheeled vehicle allows you to have. All this and much more prompted us to turn our passion into a job, creating our Bully Machine mechanical workshop in which we improve cars and motorcycles in terms of aesthetics and mechanics, to offer each of our customers a highly stylish and personalized vehicle.
Over the years, to our specialized workshop, we have added the eCommerce www.bullymachine.it with the aim of allowing anyone to easily purchase, not only the exclusive accessories produced by our workshop but also aftermarket parts and components of the best brands currently on the market.
What sets us apart
Passion, dedication and a lot of competence.
We have been working with the most marketed car and motorcycle models for decades, which is why we have gained a great deal of experience that we make available to each of our customers, with professionalism and punctuality. Thanks to us, you will have the opportunity to choose the best aftermarket components for your vehicle, useful for improving both its aesthetics and mechanics, to obtain unparalleled customization. Our continuous search for the best components allows us to offer a vast online catalog, in which you can easily find every aftermarket accessory available on the market, even the most sought after. Our goal has always been to satisfy even the most demanding customers, providing quality aesthetic solutions, with the maximum possible convenience, for this reason by browsing our eCommerce you will find:
Extensive catalog of aftermarket accessories
The best products from the best brands
Payments in 3 installments with Paypal
Pre and post sales assistance
Corporate data:
Bully Machine is a brand of
Luismoto di Bertelli Luis
Via di Campaldo, 10 56122 - Pisa (PI)
VAT number: IT02245090507
eMail: [email protected]
Telephone: +39 338 5261459
The workshop is open to the public from Monday to Friday: 4.00pm / 8.00pm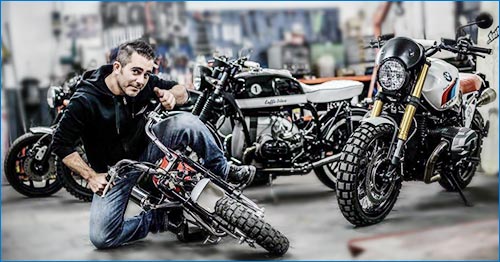 Production of exclusive and trendy accessories
In addition to the marketing of items produced by third parties, using the BullyMachine brand, we are exclusive producers of numerous accessories and components compatible with the most popular car and motorcycle models. Bullymachine is a young and dynamic brand specialized in the design and production of aftermarket accessories for cars and motorcycles. The constant search for perfection, combined with a strong creative vein, allows us to follow the trends of the moment, creating accessories with a high aesthetic and functional impact. Each accessory made by Bullymachine is a concentrate of style and personality which, combined with the high technical rate, allows you to customize your vehicle to the highest levels. We personally follow the entire creative process, from the creation of the molds to the choice of the most noble and aesthetically appealing materials. The final realization of the piece and the subsequent quality control are phases entrusted to Italian craftsmen with proven experience, a guarantee of high quality standards.